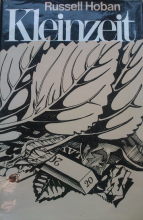 The cover of the
first edition
The Kleinzeit Concordance
This page offers a Key Word in Context (KWIC) Concordance to Russell Hoban's 1974 novel Kleinzeit.
The text of Kleinzeit is © 1974 Russell Hoban.
Search
Page Numbering
Page numbers in the concordance refer to
the Picador paperback edition (1976) and
the UK 20th Anniversary Edition (Bloomsbury, 2002)
The 2021 Penguin edition in the Modern Classics series was completely reset, with significantly less text on each page, resulting in 208 pages as against 191.
The table shows the start page of each chapter in
the Picador and Bloomsbury editions.
The chapters are not numbered in the text.
---

Chapter
Page
Title

---

1
7
A to B
2
10
Sister
3
11
The Sack
4
12
At Dr Pink's
5
14
Arrival
6
15
Hero
7
18
The Blood of Kleinzeit
8
20
Corridor in the Underground
9
22
Arrow in a Box
10
24
No One in the Underground
11
26
Music
12
29
Could Go Either Way
13
32
Up and Down
14
34
Not Quite the Ticket
15
39
Big Mouth
16
41
Other Music
17
44
So Glad
18
47
Morrows Cruel Mock
19
48
Prothalamion
20
50
Short High
21
51
Asymptotes
22
55
Seven Fruity Buns
23
61
By Hand
24
65
Hat
25
67
Shackleton-Planck
26
71
Firkin? Pipkin?
27
73
Over the Side
28
75
Stretto
29
81
Now Playing
30
88
Late Coffee
31
97
Ponce
32
101
Plain Deal
33
109
Ha Ha
34
116
Nonsense
35
122
Caterpillar Tractor Horse
36
128
All in Blue
37
134
Little Song
38
137
Blipping
39
146
Am I Orpheus?
40
149
Large Valuable Lovely Thought
41
151
Action at the Entrance
42
152
Zonk No
43
158
Solo
44
159
Remains to be Seen
45
160
The Machine from the God
46
163
Getaway
47
164
Eurydice Looked Ahead
48
166
Like Magic
49
169
Lay-By
50
174
Mixed Feelings
51
177
More Things
52
181
Everywhere, All the Time
53
183
Good News
54
185
Nothing Out of the Way
55
187
Presents
56
190
See You
191
(End)